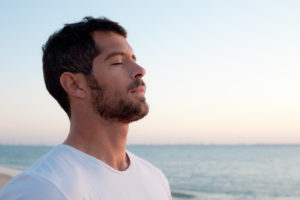 An important technique used in meditation and other disciplines, including martial arts, is awareness and control of the breath. Learning more about your breath and how to control it will actually have a big impact on your life, including your health.
Most people don't know how important the breath is to their health. The breath can tell you a lot about the state of your mind and body, including your mental and physical health. When you're feeling stressed or anxious you'll notice your breath will be very different to when you're feeling relaxed and settled.
Most of us started life as a baby breathing in a very effective way. But as a result of past disappointments or hurts and even lifestyle imbalances, we've picked up patterns of breathing that don't support a healthy body and a calm and present state of mind. When it comes to the basic ways we can improve our lives, breath training is essential.
While the breath in many ways reflects our present state of health, you can also train the breath to greatly improve your mental and physical well-being. Having the goal to improve the breath, being aware of the breath, and proactively tuning into it throughout the day can make a big difference in your life. Follow these simple techniques below to start improving your breath and your health.
Tuning into your breath throughout the day
Get into a regular habit of checking in with your breath. Be especially alert to catch times in the day when your breathing is not flowing so easily. It would be good to try and do it at different points of the day, say half a dozen times in the day. Make a little pattern or some way of reminding yourself to check in and notice what's happening in the breath.
You can also think of the different situations in the day and the different sorts of activities you do. When exercising, most people can be forceful with their bodies and this will eventually reflect in forcefulness of the breath. If you catch the breath feeling forced or restricted, slow down or stop what you're doing until the breath returns to its natural flow.
You also want to be tuned into different moments of the day when you might be feeling flat, frustrated or impatient and notice what the breath is like. It's important to celebrate when you catch the breath in a way that is not flowing easily because this means you're starting to become more aware of your breathing patterns.
Learning to control your breath
Whether you are mouth breathing or whether you just catch the breath tightening up, the immediate thing to do is to release it. Always focus on the out-breath.
If you've tightened up a bit, you might need to exhale through the mouth a few times before you start exhaling through the nostrils. Then when you are ready, start a gentle in-breath through the nostrils to regain that flow.
Using movement with your breath to quickly relax and settle
If you are feeling quite agitated or stressed, you can always accelerate that release by combining movement with the exhalations. One of the options is the shoulder drops.
Start by inhaling the shoulders high, squeezing them up, and then as you exhale, drop the shoulders down with a strong releasing out-breath through the mouth.
After you've done that for a couple of minutes, you can also do some slow shoulder circles.  Inhale the shoulders up. As you keep them high, move them directly back between breaths. As you exhale, move them down, pausing for a moment on the out-breath and then continuing to inhale the shoulders up again. Keep circling them with the breath, bringing more awareness to the four stages of the breath (inhale – pause – exhale – pause).
Consciously slow down the breaths, especially slowing down the movement in the second stage of the shoulder rolls (rolling shoulders back between breaths). After you've done that a few times, bring more awareness into the body until you start to feel settled.
This is a very powerful technique that you can do at any point in the day when you're feeling unsettled, anxious or stressed. Try this next time you're in an unsettled state and you'll notice how quickly you can bring the mind and body back into a calm and settled state.
Learn more about the breath and other techniques, including how to establish your own meditation practice with our InSync Meditation course. To find out more click here.